Swami Santhiprasad
School of Santhi
Yoga School

S W A M I S A N T H I P R A S A D
Spiritual leader • Yoga Master • Yoga Guru
SCHOOL OF SANTHI YOGA SCHOOL INDIA & EUROPE



Swami Santhiprasad


Spiritual Yoga Master, Yoga Guru and founder of School of Santhi Yoga School in Kerala, South India.



Swami Santhiprasad is born in a family


which was closely connected to great spiritual Yoga Masters like Thycaud Ayyavu Swami, Chattampi Swamikal and Narayana Guru.



Santhiprasad's Grandfather


was very close to Chattampi Swamikal. During Santhiprasad's childhood his father spent many days with Swami. The family members, influenced by Chattampi Swamikal, maintained an atmosphere which facilitated discussions on spirituality and art, and the tradition continues there. Santhiprasad is an exponent of Indian spirituality, living in South India and in Sweden, Europe with his wife and two children.



Santhiprasad is born 1948 in Kerala, South India


His father was Purushothaman and mother Sarojam. His grandfather Padmanabhan Bhagavathar was a renowned Yogi, musician and a physician and had

Thycaud Ayyavu Swami

as his mentor.



One day the renowned Poojappura Gopala Swamikal

told Purushothaman that a child is going to be born for him with star Bharani and he will fulfill what his father could not achieve! A year and a half later, he got a son exactly on Bharani star and that son was Santhiprasad.



As a child Santhiprasad was


deeply interested in spirituality and very fascinated in the life stories of great spiritual Masters such as Swami Rama, Swami Vivekananda, Shri Chattambi Swamikal, Shri Ramana Maharishi, Shri Aurobindo and Shri Ramakrishna.



Santhiprasad's experience of Yoga


and Indian Spirituality has been a serious lifelong learning starting when he was 5 years old.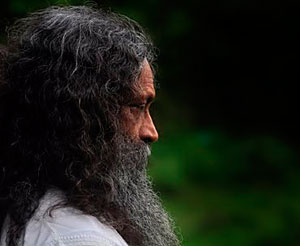 During childhood


he was always curious to know the secrets of the universe and was constantly asking questions about the stars, moon, sun, galaxies, universe etc.



Santhiprasad was initiated


into

Siva Raja Yoga

by his father who owed it from his father as a part of the family tradition.



He had his primary education


in Thycaud Nallathambi Lower Primary School. After higher secondary, he went to the University and studied in Mahatma Gandhi College in Trivandrum. He took his Bachelor's degree in Science.



There after he studied law


got his bachelor degree in law and became a lawyer. He was later employed in the Kerala State Legislative Assembly. During one period in his life, he was also writing, directing and staging plays highlighting the importance of conservation of nature and the up keep of human values.



Santhiprasad was always


interested in wise men and Masters. During his long spiritual search and many pilgrimages in India he came across many remarkable people and met many known and unknown Yoga Masters such as Maharishi Mahesh Yogi, Osho, Madhavan Pillai Swami, Parama Sivam, Guru Vasuki, Ganga Das, Narayana Swami, Swami Chidanada, Ramananda, Krishna Adiga and many others.



Teaching others in Yoga Asanas


In 1967 at age 19 Santhiprasad started teaching others in Yoga Asanas.


In 1969 at age 21 Santhiprasad

learned the basics of Kundalini Yoga.



Santhiprasad learned Jnana Yoga and Samkhya


from Madhavan Pillai Swamikal in 1977.

Santhiprasad finally met

Bhaskara Pillai Swamikal


In 1979 Santhiprasad met Bhaskara Pillai Swamikal on Guru Pournami, a day devoted to the Masters. What he was recollecting from his meeting with Bhaskara Pillai Swamikal is:


"Swami was quite ordinary in his ways and we remained awake the whole night. He was talking about Pranic Spandans (Pulsations), Spandanopanishad and its significance in the spiritual evolution of a seeker. By sunrise, I went along with him. From that moment onwards I have never felt the need for another Master and I have stopped hunting for Spiritual Masters."
Teaching others in Kundalini Yoga and Siva Raja Yoga
In 1978 Santhiprasad started to teach others in Kundalini Yoga and Siva Raja Yoga.

Founded a spiritual organization
In 1982 Santhiprasad founded the spiritual organization Viswa Santhi Mission together with Raja Yogi Raja Atma Ram and in 1984 Centre for Conservation of Humanity together with his colleagues.

In 1987 Santhiprasad took
a long vacation from his office at the Kerala State Legislative Assembly for doing a film based on the search of a youth, which in turn had led him to devote his full attention in spirituality.

This was a turning point
in his life. During this period, he was exploring into the causes of human suffering. In his intense inquiry, he has understood the causes and reasons for the psychological suffering of man.

He has understood
the problems of conflict, its causes and reasons that are rooted in concepts, believes and ideals.

He has seen clearly
the games that are played by the mind for the upkeep of images created by the ego. During this period, he could distinguish between dreams and reality.

This was the period
of formulation of his philosophy. He has experienced the grace of Nature and became confident to be free.

Santhiprasad got into silence in 1990
The cleansing process started years before within him and came to a culmination. Santhiprasad started to live an ordinary life unbiased by spiritual prejudices.

In due course with the blessings
and guidance of Bhaskara Pillai Swamikal, Santhiprasad formulated his own system of spiritual practice and Yoga Counseling.

Santhiprasad has explored deeply
into the essence of Samkhya philosophy, Kundalini Yoga, Swara Yoga, Raja Yoga and Jnana Yoga and delineated his own system of Yoga therapy.

In 1993 Santhiprasad established
his Indian spiritual Yoga School, School of Santhi, in Trivandrum, Kerala, South India. The same year his devotees in Italy started School of Santhi Italy and a year later his swedish devotees started School of Santhi Sweden.




Y O G A L I N E A G E


SWAMI SANTHIPRASAD • SCHOOL OF SANTHI

• Siva Raja Yogi Thycaud Ayya Swamikal
• Siva Raja Yogi Padmanabha Bhagavathar
• Sri Purushothaman
• Swami Santhiprasad


Y O G A L E A R N I N G


SWAMI SANTHIPRASAD • SCHOOL OF SANTHI

• Initiated in Mantra Yoga by his father Shri Purushothaman.

• Learned Chanting from Shrimati, Lekshmi Kalyani, Grandmother, wife of Siva Raja Yogi Padmanabha Bhagavathar.

• Started practicing Hatha Yoga as child.
• Learned Patanjali Yoga Sutra as teenager.
• Learned the basics of Kundalini Yoga as teenager.
• Initiated in Transcendental Meditation by Shri Subrahmony of
Maharishi's Institute of Creative Intelligence.

• Studied Nature cure from Shri Ganesha Sharma.

• Met Bhagvan Rajaneesh (Osho) in Pune Ashram.

• Studied Nature cure system from Swamy Ramakrishna.

• Studied Hatha Yoga and Swara Yoga from Guru Vasuky.

• Studied Hatha Yoga from Ramananda Saraswathi of Kolloor.

• Met Bhaskara Pillai Swamikal of Kowdiar and learned the secret of Spandan.

• Initiated in meditation by Bhaskara Pillai Swamikal of Kowdiar.

• Initiated in Kundalini Yoga by Balakrishna Pillai Swamikal.

• Initiated in Tantric Sadhanas by Sri Krishna Adiga, Chief Priest of Kolloor Mookambika Temple.



---


During Swami Santhiprasad's years of learning Yoga
he had direct contact with and received Spiritual Yoga teachings from:
• Shri Paramasivam
• Ramanantha Saraswathi of Kollur
• Guru Vasuky
• Chidanantha Swamy of Kollur
• Swami Bhaskara Pillai Swamikal
• Swami Ganga Das of Gangotri
• Shri Balahari Baba of Bhoj Vasa in Gomoug
• Narayana Swamikal of Mookambika
• Swami Rajendran of Mayi Amma Samadhi
• Poonthura Avadhootha Swamikal
• Nainan Swami of Thakkala
• Madhavan Pillai Swami of Thirumala

T E A C H I N G E X P E R I E N C E


SWAMI SANTHIPRASAD • SCHOOL OF SANTHI



Yoga Asana


45 years of teaching experience



Kundalini Yoga


30 years of teaching experience



Siva Raja Yoga


30 years of teaching experience




~ Swami Santhiprasad ~
Spiritual leader • Yoga Master • Yoga Guru
SCHOOL OF SANTHI

Other visitors also read this information:
Please make your reservation in time!
Consider the time it will take to get a Student Visa!


SCHOOL OF SANTHI YOGA TEACHER TRAINING INDIA and EUROPE
Swami Santhiprasad
Yoga Master • Yoga Guru • Spiritual Leader




I have committed myself

to be available always for all of you and share what I have understood during the course of journey of my life, both in the Indian spiritual Yoga traditions and beyond, as a seeker if it is of help for you. What we need in this world is few individuals who could commit themselves to explore their own inner world! It is really difficult to find few of them. However, I commit myself to be available always!

Love Swami Santhiprasad
Yoga Master

•

Yoga Guru

•

Spiritual Leader
School of Santhi Yoga Teacher Training, Kerala, South India
School of Santhi Yoga Teacher Training Europe



Please make your reservation in time!
Consider the time it will take to get a Student Visa!



..................................
2017:

AUG 1-30, 2017
..................................


..................................
Yoga Teacher Training
TTC 200 Student
Leslie Anne Franklin:
..................................

One day I decided to change my life and do something for myself after rearing 4 children that had grown up and moved on with their own lives. So I packed up my house and flew to India to join the School of Santhi.

When I sat in front of Swami Santhiprasad I felt as though all the questions I had ever needed to know about life had been answered

Not only was I given a

professional Yoga Teacher Training

but I was able to unlock deep spiritual gifts inside of me that I never knew existed.

The course taught
me how to live in an authentic manner

and see through the many veils of illusion that were inhibiting my spiritual growth.

The day the course ended in India, I flew back to Australia and started immediately to teach.

The course gave
me confidence and a professional manner of teaching

I was able to impart to all of my students the 'Spirit of Santhi'. The training made it possible for me to hold successful workshops on Yoga, Meditation and the Kundalini chakra system in Australia and Bali, Indonesia.

I thoroughly recommend the
course to any aspiring Yoga Teachers



..................................
Spiritual Yoga Student
Pekka Ronkainen:
..................................

School of Santhi,
the best Yoga Teacher Training School in India

Have the most
amazing Yoga Master and spiritual teacher Swami Santhiprasad

I hope everybody interested in Yoga will be able to meet him.

It is a blessing that Santhi with his long experience of Yoga still is around teaching classical Yoga.

Santhi is always interesting to listen to. He is so fun. He is so experienced. He is so inspiring.

We all need Swami Santhiprasad's words
of wisdom.

We all need
to be blessed with Santhi's smile

I am the first to recommend Swami Santhiprasad and School of Santhi Yoga School in India



..................................
Yoga Teacher Training
TTC 200 Student
Christina Yap:
..................................

I am delighted and most grateful to have completed my teacher training with the School of Santhi.

The organization behind the teaching was splendid
and the delivery was superb.

Absolutely everyone involved in the process from the master, visiting teachers, cooks, cleaners, to the supporting and administrative staff delivered their service with passion, enthusiasm, love and pure commitment.

This was sustained consistently throughout the month. It is best summed up by a fellow student when asked by a stranger about her experience of the course:

Absolutely
amazing!

I had heard from a previous student that Master Santhi is a great teacher - yet I was absolutely astounded to have experienced it first hand:

Santhis teachings show a great depth in insight, knowledge, experience and sensitivity

which in totality is, quite simply, mind-blowing. He is the best story teller I have ever come across: we all enjoyed Santhi's truly inspirational lectures, often underpinned by personal accounts, shared with much humility, grace and humor



..................................
Yoga Teacher Training
TTC 200 Student
Marc Shackman:
..................................

My experience at
the School of Santhi once again reassured me of how you attract the experiences in your life that you need at the perfect moment.

I was open to bringing a deeply inspiring adventure into my life and a deeply inspiring adventure is exactly what I received.



The location was perfect.



Natural. Beautiful. In the mountains and forests. By a healing river. Trees. Birds. Close to the elements.

What more could I ask for?



The teachings were perfect



clear and well structured; enlightening should I say.

All the Santhi staff and helpers were open, transparent and friendly.

The food was healthy and well balanced.



The school was professional



with everyone always greeting you with a smile.

The Yoga Asana practice pushed me to my limits and I really feel the difference!




You are treated as a unique individual with the School of Santhi.

It really felt like you were a part of a small family, and everyone was welcomed with fresh, open arms.

If you are
looking to be challenged on all levels then the School of Santhi is a great place

to continue your own serious (but not too serious!) personalized journey to oneness.



The course gave me the traditional interpretation of the true nature of Yoga



and showed me how truly deep it's roots go, and how it relates to all aspects of life!

It was truly a great introductory course that is packed to the brim with information and opportunities for growth, self healing, self realization and self-discovery.

Santhi passes
over his wisdom in a very down to earth, personal and
unique way

so that you can truly understand and relate to his words with your own life experiences, through the honest revealing of Santhi's own life experiences and HIS own human journey!



He was always open to questions and easily approachable.





I am a changed man!


I am not the same person as when
I came



..................................
Yoga Teacher Training
TTC 200 Student
Kristen Slater:
..................................

I enjoyed my month in Kallar terribly.

The training
far exceeded my expectations

and even being home, I am frequently reminded of all I learned and experienced during my time at the School of Santhi.

Prior to coming to the program, I had hoped to increase my knowledge related to yoga as well as an opportunity refine and improve my asanas.

All that was accomplished but
I also left with a very personal shift in perspective.

The training has changed me in very meaningful ways and
I believe it has put me on a path to continue my spiritual journey.

I am amazed that all this could have taken place in such a short amount of time.

I would like take a minute to thank Swami Santhi, Kannan, Kumar and all the support staff who made the training and the time in Kallar so wonderful.





Swami's method of presenting information was so engaging and came from a place of truth and it made it easy to be in long lectures every day.



I was always exited for Swami's discussions



because I knew that the information he was giving us was such a special and unique gift and his delivery was so effortless and personal that it never felt like a class or a chore.

Kannan's
asana classes were wonderful

and now that I am back in my regular practice, I am able to notice the vast improvement in my practice.

Kannan's
fearlessness in challenging students could only be successfully accomplished because of his

knowledge of
how the body works and where the limit is for each individual.

Having Kumar on site daily was also such a gift. I always felt taken care of and was so appreciative to have someone to go to if anything was needed.

Kumars energy
and bright spirit was
felt throughout the
house every day.

My month at
School of Santhi was an experience I will never forget



..................................
Yoga Teacher Training
TTC 200 Student
Christine Dinsmore:
..................................

Words can not begin to express the gratitude that I felt towards the two of you. I began my spiritual journey 8 years ago and it has led me to School of Santhi!

Little did I know that the knowledge, wisdom and kindness that you have been gracious enough to share with me this past month, is what I have been truly searching for.

I will leave here knowing two things:
One, that

I now have
the tools I need
to create my own happiness and live my life the way I have always desired to.

And two, that there is nothing I can do to ever repay you.

You are two shining spirits who have profoundly .....



SCHOOL OF SANTHI YOGA SCHOOL
School of Santhi Yoga Teacher Training India
•
School of Santhi Yoga Teacher Training Europe
Traditional Yoga Teacher Training Schools in India & Europe for serious spiritual seekers - guided by Swami Santhiprasad
webmaster
l copyright © School of Santhi International 1996-2017 l
photos from www.ronkainen.se
l
sitemap
l
contact